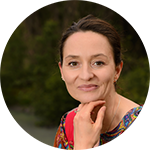 WELCOME to Holistic-Ways. My name is Alexandra Roach. In order to keep my introduction short… I am a Catholic, wife & mother, holistic health coach, aspiring farmer & community herbalist, yogi, author & life-long learner. Please, feel free to browse my website to get to know me a bit better and to answer some of your questions about my work in the field of holistic health. If you still have questions, I encourage you to contact me.
I am looking forward to meeting you.

---
Mission Statement
Sustainability inside & out – It is my mission to establish a caring, productive and encouraging environment in which all members of our community feel welcome. Individuals can find time to rest, reflect, rebound, and build resilience all while creating a connection to nature and an awareness of their own possibilities in life. The construct of new ideas, skills, and habits establishes a routine based on the five factors of holistic health: nutrition, physical activity, social relationships, personal career/fulfillment, and spirituality.
---
My Vision
Create awareness about Holistic Health including the realization that our body, mind, and soul are intimately interconnected and explicable only by reference to the whole. This leads to sustainability in and for ourselves.
Utilize integrative health modalities such as yoga, tai chi, meditation, herbalism and reiki to move toward a better understanding and control of one's own well-being.
Encourage individuals to discover their unique abilities through working with nature in a sustainable manner for both, our environment and ourselves. I base this on the three Ethics of Permaculture: Earth Care, People Care, Fair Share. This creates sustainability in our environment and for our future.
View Veteran-Care from a different angle through the design of Healing Gardens that incorporate three specific focus areas: Community Space, Production Area, and Sanctuary Garden. The goal is sustainability in groups and organizations.
Grow life-skills through Farming and establishing a nourishing homestead. Experiences we learn and master will tie back to holistic health, healing gardens and a meaningful way of life. This brings sustainability in our food-supply, our Mother Earth and what else nourishes us.
---
"We have this weird thing in the world where you don't get insulted for what you do,
you get insulted for who you are."   (~ John Green)
---
Sustainability – Food for Thought
The other day I was asked how to respond to the question "Who are you?" It made me wonder…
How do we define ourselves in this society? Should we first list all of our professional credentials? Or do you tell the person across from you half of your life's story.
We slip into different roles during our lives, but also during each day. We may be a parent, a friend, a partner, a lover and professionally, a team-member, a leader, a follower, a student, a teacher, etc. Those roles certainly overlap, but each times that happens, we have to determine once again 'Who am I.'
Pretty tricky, especially because we base many of our values these days not on ourselves, but try to live the dreams of our neighbors, co-workers, and idols. We run after what the media creates as 'the good life' and fall into despair when we do not succeed with accomplishing the vision of the masses.
Therefore, before any change can happen in your life, in the private realm and/or professionally, you must define who you truly are. What are your wishes, your desires, your needs? Do you stand for something? What makes you feel good? When do you shine? How do you best serve others? What is it that makes the You-person YOU?
In my case, I decided to keep my introduction short and in the order of importance to me, as seen above in my welcome to you.
---
I would love working with you to explore
who you are and what makes you shine!
Now, it's your turn! Get in touch or ask me in person at one of my events.