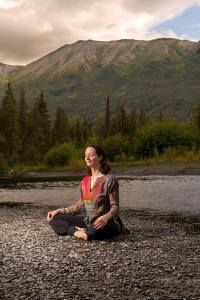 The picture above was one of the wonderful photographs my friend and very talented 'camera-manipulator' Stephanie Kaufmann-Cook took when we went out to photo-shoot for my upcoming book and new website. (By the way, you can reach her through Sanctuary Photography Alaska on facebook). When she posted this picture on social media she added the caption: "May we all find moments of serenity."
This made me think. What is serenity? And how do we reach it? Merriam-Webster's dictionary tells us the definition: "[Serenity is] the quality or state of being serene." I didn't find this much helpful because they just used the verb instead of the noun in their explanation. So, let's try this again. What is serene? This search turns out to be more helpful. [Serene is described as] "calm or peaceful; clear and free of storms or unpleasant change." So how do we get to this state of serenity?
I would like to present an additional view on serenity, Johnny Miller, a former professional US golfer from the mid-1970s, put it this way: "Serenity is knowing that your worst shot is still pretty good."
Hmmm. I had to think on that one for a moment. When it finally made sense to me and I was able to look past the literal shot that he would take as a golfer, I understood. Now, it makes a whole lot of sense.
In my opinion, we are dealing with two components here. The targeted state of mind described as tranquility, stillness, patience, calmness, composure, peace, or quietness, and the 'taking a shot at it' portion of the deal.
You know, Thesaurus.com lists the antonym of serenity as agitation, disturbance, excitement, trouble, or disruption. And this made me really think. How often during our daily routine are we getting thrown off balance? Maybe we are late and the person in front of us is driving extra slow that morning, or we got the kids all ready for the day and they spill berry-sauce all over their shirts, it might just be that we don't like the image of ourselves that morning in the mirror… or co-workers at the office, music on the radio, etcetera, etcetera. We are indeed easily thrown off balance.
Years ago, I would be frequently disappointed by my husband (so I thought) because he did not fulfill my expectations, which included for example to leave work on time to enjoy a nice family-dinner together. Only when I realized that I was not be able to change his work-environment nor the demand his job placed on him and instead focused on my own perception of the situation, I could influence the situation and initiate a positive adjustment.
We are so often caught up in our daily 'dilemmas' that we forget to take that 'shot' of trying. Trying to (re)act differently because we just assume that the shot we take will fail anyway.
Today, I would like to encourage you to take your shot, to realize that even your worst shot is pretty good, and to notice that this is the way to your personal serenity.
With that, I'll leave you to a wonderful serene weekend and following week.
Hugs,
~ Alexandra