We shall need a substantially new way of thinking if humanity is to survive.
~ Albert Einstein
---
Small Steps to Big Change is a collaborative effort between Katherine du Plessis and Alexandra Roach to create awareness around troubling topics of our times. Instead of dwelling on the negative though, they want to inspire and invite individuals, families, Veterans, and our society to take ownership. They notice that people feel helpless in the wake of the global health crisis, food shortages, water – air – land pollution, disenfranchised communities, and so much more. What we need is HOPE! Out of this idea, The Earth & You was born.
Hope combined with realistic, small steps on how every single person can make conscious choices of change, will have a tremendous overall impact on our world.
Between the two of them, Kate and Alexandra have completed quite extensive travel around the globe where they could experience first hand what impact climate change has or how various cultures are attempting to deal with it.
If you are interested in their travels visit them on Facebook:
Kate's blog: Where in the World are Kate & Ruan
Alexandra's blog: Journey of a Lifetime
About the authors:
Kate is a conservation biologist (M.Sc.) and a very compassionate person. She cares not only about the environment but also about the people who inhabit this wonderful planet. Her field of expertise lies within the natural realm. That's why she is responsible for fact checks, scientific research, and creative solutions when it comes to our human habitat – the Earth!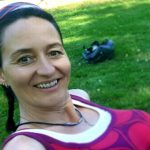 Alexandra is a holistic health practitioner (CHHP) and author with a very up-beat, inspiring personality. Through Kate, she has learned much about her own impact on the environment and how to make the connection between the place we call home and ourselves. Her main area of study is our human body, specifically how we can improve our own well-being through physical, mental, and spiritual measures. In this project, she is responsible for writing, and the connection between the Earth and – You!
Visit our website for more information on this new, innovative, and growing project! Their book "The Earth & You" has been a labor of love for the past 12 months – they are still writing and continue to have many more ideas.