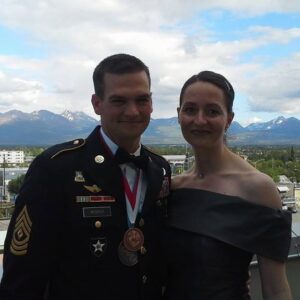 As an Army Spouse of nearly 17 years, Alexandra mastered many ups and downs effected by her soldier's career. She was born and raised in Germany, where she met her husband and married him when he was stationed overseas. Alexandra certainly thought she was smart, experienced, and ready for the military ride, but life proved different and they had to endure many difficulties throughout the years. During this time with her husband, as he climbed the ranks and Alexandra supported his troopers' families, she developed a deep passion for all service members, veterans, and their loved ones.
Military life is so different. Civilian life cannot compare to it.
Over the years, Alexandra noticed the change in health and lifestyle that an increasingly demanding military mission had on everyone around her. People seemed to lose their zest in life. They live their lives in a monotonous way. They work to earn money, but everyone could see the absence of joy in their daily routine. Of course, Alexandra saw this change happen not only on military installations and within the military community.
Our whole society is suffering from this problem.
You are probably visiting this website because some little (or not so little) voice inside you is longing for more in life. 'More' in this case does not mean the materialistic wealth one might accumulate during his/her years here on Earth. 'More' in this case is defined by:
healthy, functional body 
focused, clear mind
nurturing relationships
greater sense of being
overwhelming sense of peace, love, and contentment 
If you think you are expecting too much, especially in the environment of your current career field with the United States Armed Forces or while transitioning into the civilian world, or maybe while working in the corporate sector, I say 'No, you are not.' You are here for a reason and just at the right time.
It is up to you to take action. You are in charge and setting the course of your life.
Let's get your life back! Let's do it! What an amazing journey it will be, which Alexandra is very grateful to be part of.
Connect
with her. She would love to hear about your goals for the future and assist you with achieving those.
P.S.: For those who care about credentials:
For her work with active-duty personnel, veterans, and their families, Alexandra has received the Outstanding Civilian Service Medal, the Commander's Award for Public Service, the Order of St. Joan D'Arc, and the Golden Rose Award. Her conspicuous efforts won her several other accolades, including a commendatory letter from Alaska State Representative Lora Reinbold.