Healing Gardens Based on Holistic Health
The understanding of holistic health led to my idea of integrating three different, usually disconnected systems into one garden design: Healing gardens.
(Definition of holistic: characterized by comprehension of the parts of something as intimately interconnected and explicable only by reference to the whole.)
---
This project focuses on education (resiliency, communication, nutrition, integrated health techniques, medicinal herbs), skill-based learning (self-care, physical activity, cooking, farming, animal husbandry), and community building (relationships, social relationships/integration).
---
The term "Care-Farming" was born in England, which is explained on the care-farming website as the therapeutic use of farming practices. Exactly what I have in mind for the healing gardens. Although, I would like to take my design several steps further. For this idea, I integrated three areas of importance:
Community Space: social gatherings, formal & informal functions, educational workshops/seminars,  return sense of belonging
Production Area: grow vegetables/herbs/flowers, explore farming techniques, crop/pest-management, communal garden management
Sanctuary Garden: secluded, sense of security & control, designed for restoration & relaxation, alternative movement courses (Yoga, Tai Chi, or Qigong), solitude practices, meditative walking, medicinal herb spiral
I presented on the topic of healing gardens at the 23. Statewide Undergrad Research Conference at the University of Massachusetts in April 2017. My problem-solving approach and design of integrative healing gardens is visible on my poster presentation below.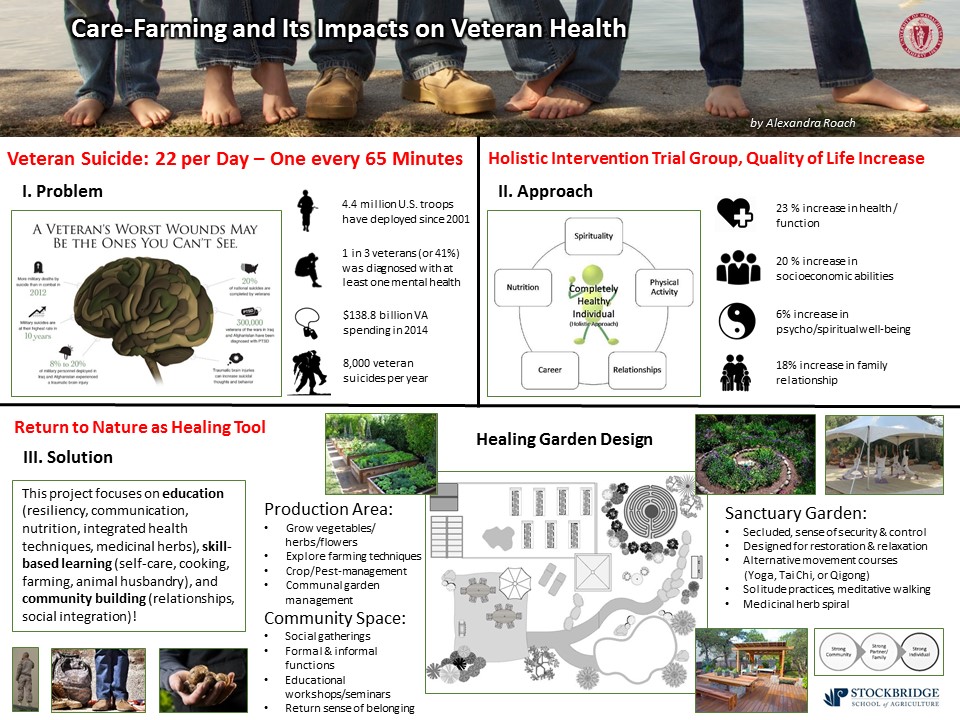 My research regarding this project is currently ongoing. I am writing a proposal to have such gardens implemented. If you have any questions, please do not hesitate to contact me. Also, check out the Permaculture link on this page to get to a paper of mine that I wrote on the subject. Its title: "The Relation between Permaculture, Human Health & Holistic Well-being. How Body, Mind and Spirit Can Heal through the Application of Systems Design." This also shows how intertwined we are with nature and specifically with each other.