Farming – My Passion
Did I mention that I am an aspiring farmer? It took a long time for me to figure out that farming was my passion. In fact, it all began with nutrition and a change of lifestyle for our family. We became more aware of how our food influences our mood and our physical capabilities. We started eating 'cleaner,' which means mostly organic and no GMO! Well, as you can imagine, this was only the beginning. My studies at the Institute for Integrative Nutrition certainly played a role for more change. However, it also seems that one step naturally flows into another and another and so forth. Anyway, now, we are not only conscious about what we eat, but also how we impact our environment and our fellow human beings. I worked with some groups and introduced them to the Integrative/Holistic Way of Life. I saw huge improvement in health within all of my clients. This is what truly sold me. Not only did I want to share what we were doing, but also learn how I can actually grow the things (and raise them) what I was preaching about, which naturally lead to farming.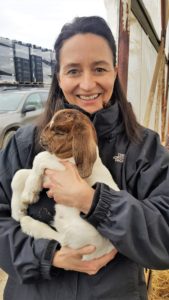 Now, I have completed several semesters of studies at the University of Massachusetts, Amherst, in the Sustainable Food and Farming track at the Stockbridge School of Agriculture. I'm also attempting a double major in Sustainable Community Development and worked on many projects – including one that involved community service at a non-profit organization for veterans here in Massachusetts. Check out my team's work at Vets & Veggies.
Our Need for Nature
At home, our little homestead is growing, too. We have two colonies of bees now, 29 chicks that grow by the day, and putting in two big beds for a vegetable garden. I am learning with my family through making mistakes but we are having a blast (most of the time). This proves again my point of how rewarding physical work in and with nature can be. Ever heard about Richard Louv's research and book Nature Deficit Disorder? Here is a quick video sneak-peak – Enjoy!
I'm not saying all of us need to be farmers, but all of us do need the connection with nature, a close relationship to our food, and an understanding of how our personal choices influence our health! Wouldn't you agree?
Contact me if you are interested about more guidance on a holistic approach to health!