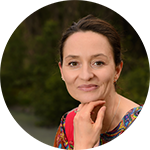 WELCOME to Holistic-Ways. My name is Alexandra Roach. In order to keep my introduction short… I am a practicing Catholic, wife & mother of three, holistic health coach, aspiring farmer & community herbalist, movement teacher, author & life-long learner. Please, feel free to browse my website to get to know my work in the field of holistic health. If you still have questions, I encourage you to contact me.
WILLKOMMEN bei Holistic-Ways. Mein Name is Alexandra Roach. Ich möchte meine Einleitung kurz halten… Ich bin praktizierende Katholikin, Ehefrau & Mutter von drei Kindern, ganzheitlich-ausgerichtete Ernährungs- & Gesundheitsberaterin, anstrebende Landwirtin & Kräuterheilkundlerin, Bewegungslehrerin, Autorin & lebenslange Schülerin. Ich möchte Sie einladen sich auf meiner Webseite umzusehen um meine Arbeit im Bereich der ganzheitlichen Gesundheit zu erkunden. Wenn Sie danach noch Fragen haben dürfen Sie sich gerne an mich wenden.
I am looking forward to meeting you.                                                                                                        Ich freue mich darauf Sie kennenzulernen.

---
Mission Statement / Mein Leitbild
Sustainability inside & out – It is my mission to establish a caring, productive and encouraging environment in which individuals can find time to rest, reflect, rebound, and build resilience. This includes creating a connection to God, nature and an awareness of their own possibilities in life, based on the five factors of holistic health:
nutrition
physical activity
social relationships
personal career/vocation
spirituality
Nachhaltigkeit von Innen & Außen – Es ist mein Bestreben eine fürsorgliche, produktive und ermutigende Lebensumgebung zu erschaffen in der Menschen Zeit finden zum Rasten, Reflektieren, Erholen und zum Erwerben von Widerstandsfähigkeit. Dies beinhaltet eine Verbindung mit Gott herzustellen, aber auch mit der Natur und dem Bewusstsein seiner persönlichen Möglichkeiten.  Zur Grundlage stehen die fünf Faktoren der ganzheitlichen Gesundheit:
Ernährung
körperliche Regsamkeit / Bewegung
soziale Kontakte
eigene(n) Beruf / Berufung
Spiritualität
---
I would love working with you to explore what makes you shine!
~
Ich würde mich sehr freuen mit Ihnen zusammen zu arbeiten um zu sehen was Sie zum Strahlen bringt!
Now, it's your turn! Get in touch or ask me in person at one of my events.
Jetzt sind Sie dran! Kontaktieren Sie mich oder sprechen Sie mich auf einer meiner nächsten Veranstaltungen persönlich an.